Whether it's in the form of equipment failures, unplanned production downtime or costly, last-minute repairs, you need a system that helps you maximize uptime, minimize costs and maintain control of your assets.
It's a fact that all machines, asset can fail if not properly maintained. You need a system that helps predict those failures early. Schedule your maintenance tasks on your terms.
Now let us discuss these 5 Condition-based Monitoring Techniques and services that can help you take back control of your assets.
Before we go on further to the 5 condition-based Monitoring techniques, lets take a look at the true meaning of condition-based monitoring
Condition Based Monitoring
Condition based monitoring (CBM) is a process used to establish the actual state or condition of an asset being monitored and/or examined to ascertain the necessary maintenance or precautions to be carried out on the asset.
Generally, condition-based monitoring techniques will show signs of decreasing performance or an upcoming failure. This information is used by the maintenance team to dictate what maintenance should be performed on the facility.
CBM which is form of Predictive Maintenance ensures that all components of a system are running efficiently and helps operators predict issues that may occur down the line.
The process monitors specific operating parameters of the equipment or asset to identify significant changes or deviations that typically indicate a developing fault.
In this article we will discuss 5 effective condition based monitoring techniques that can be applied to avoid asset failure, which could be catastrophic and cost implicative:
1. Condition Based Monitoring Technique – Vibration Analysis
Vibration analysis is the most commonly used monitoring technique for rotating equipment (e.g compressors, centrifugal pumps, motors). Installed vibration sensors monitor axial, vertical, or horizontal movement and send notifications when it becomes excessive.
Using vibration analysis on rotating machinery enables the early detection of faults before failure. This analysis will help you conduct a detailed assessment of your rotating plant and form the basis for improvement to deliver effective cost savings.  The aim therefore, is to evaluate machine condition for weaknesses, thus enabling the early diagnosis of faults. This in turn allows repairs to be planned and performed economically.
Equipment & Services
JOC & JOC LTD offers cutting edge vibration analysis services with latest vibration testing technologies such as the FLUKE 810 and the SV3X. Our technicians are highly trained and experienced in the delivery of such services.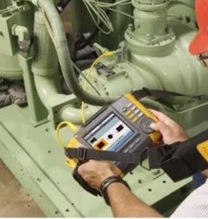 The Fluke 810 Vibration Tester is the most advanced troubleshooting tool for mechanical maintenance teams who need an answer now. The unique diagnostic technology helps you quickly identify and prioritize mechanical problems, putting the expertise of a vibration analyst in your hands.
You take pride in your facility, your team, and your work. You do what it takes to keep things up and running, but sometimes there is not enough time or resources to keep up with the workload, let alone be proactive about mechanical maintenance. Our vibration analysis services put you one step ahead by coupling a powerful diagnostic engine with a simple step-by-step process to report on specific machine faults and their severities the first time measurements are taken, without prior measurement history.
SV3X is another cutting edge and latest technologies in the measurement and testing of vibration. The SV3X collects accurate and consistent data with up to 4-channel simultaneous data acquisition  for unparalleled precision and the fastest data collection. It has applications in vibration, balancing, laser coupling alignment, event monitoring and more. At the same time, the unit is simpler to use.
Our Vibration analysis services features:
On-board identification and location of the most common mechanical faults (bearings, misalignment, unbalance, looseness) focus maintenance efforts on root cause, reducing unplanned downtime.
Assess to overall machine or equipment health
Repair recommendations advise technicians on corrective action
Detailed diagnostic reports and spectral diagrams to help confirm data quality, and narrow down the root cause of failures
Understand the root cause of failure and troubleshoot equipment
Survey equipment before and after planned maintenance and confirm the repair
Commission new equipment and ensure proper installation
Provide quantifiable proof of equipment condition and drive investment in repair or replacement
Help you prioritize and plan repair activities and operate more efficiently
Anticipate equipment failures before they happen and take control of spare parts inventories
Vibration analysis training Services
JOC & JOC LTD can train technicians on the application of vibration analysis testing in our training center in Port Harcourt & on-site.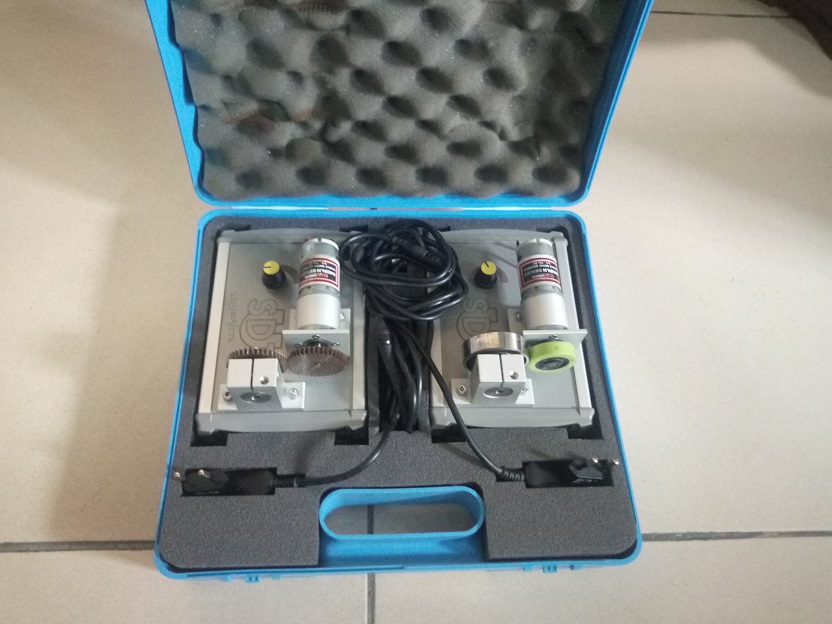 Contact us Now if you require our vibration analysis services or personnel training
2. Condition Based Monitoring Technique – Oil Analysis
Oil analysis is another non-invasive technique that can reveal the internal condition of a machine. It works by analyzing the number and size of particles (debris) such as iron, silicon, aluminum silicate, etc. in collected oil samples to determine asset wear.
Oil analysis is a routine activity for analyzing oil health, oil contamination and machine wear. The purpose of an oil analysis program is to verify that a lubricated machine is operating according to expectations.
Oil analysis condition monitoring technique does the following:
Checking the health and cleanliness of lubricants as they arrive. It is a common and dangerous assumption that all new oil is clean and healthy.
Checking the health and cleanliness of lubricants in storage
Utilization of all oil analysis data allows you to run a predictive maintenance program that monitors the condition of the oil and machinery through particle counts and identification. This information allows the engineer to determine the life cycle of the machine and when oil and filters require changing.
An effective oil analysis program involves all individuals within the companies' maintenance regime by empowering them with the knowledge and data to act in the best interest of the organization.
Equipment and Services
JOC & JOC LTD offers oil analysis services with latest and most advanced oil testing technologies such as the eraspec oil eralytics machine. Our technicians are highly trained and experienced in the delivery of such services.
ERASPEC OIL is a compact, rugged and lightweight FTIR spectrometer that delivers laboratory-grade results in monitoring lubricant conditions. It is the first truly standalone analyzer combining advantages of infrared oil condition monitoring, like fast and reliable results, with high portability. Measurements can be performed directly on-site and the results are available within a few seconds.
Features of our Oil Analysis Services
We help you determine the parameters relevant in lubricant analysis according to latest standards such as ASTM E2412. Monitor degradation products (oxidation, sulfation, nitration), additive depletion (aminic and phenolic antioxidants, antiwear) and contaminants (water, soot, fuel, coolant liquid). We also calculate complex oil parameters such as Total Acid Number (TAN) and Total Base Number (TBN) or viscosity, by chemometrical models using a customer-expandable database.
Oil analysis training Services
JOC & JOC LTD can train technicians on the application of Oil analysis and testing in our training center in Port Harcourt & on-site.
Contact us Now if you require our oil analysis services or personnel training.
3. Condition Based Monitoring Technique – Infra-Red Thermography
Infra-red thermography works with the principle that the amount of radiation emitted by an object increases with temperature. This is invisible to the human eye but is easily and quickly detected by infrared cameras. These cameras constantly watch for temperature irregularities in energized equipment.
Infra-red thermography is the fastest growing condition-based monitoring technique available today.  The development of hand-held focal plane array-based systems enables condition based monitoring technicians to bring the thermographic camera to virtually any equipment site with ease.  Advanced image processing and reporting programs facilitate fast and easy analysis and documentation of survey results.
Equipment & Services
JOC & JOC LTD offers infra-red thermographic condition-based monitoring services with latest and most advanced technologies such as the FLIR E-Series Thermal Imager. Our technicians are highly trained and experienced in the delivery of such services.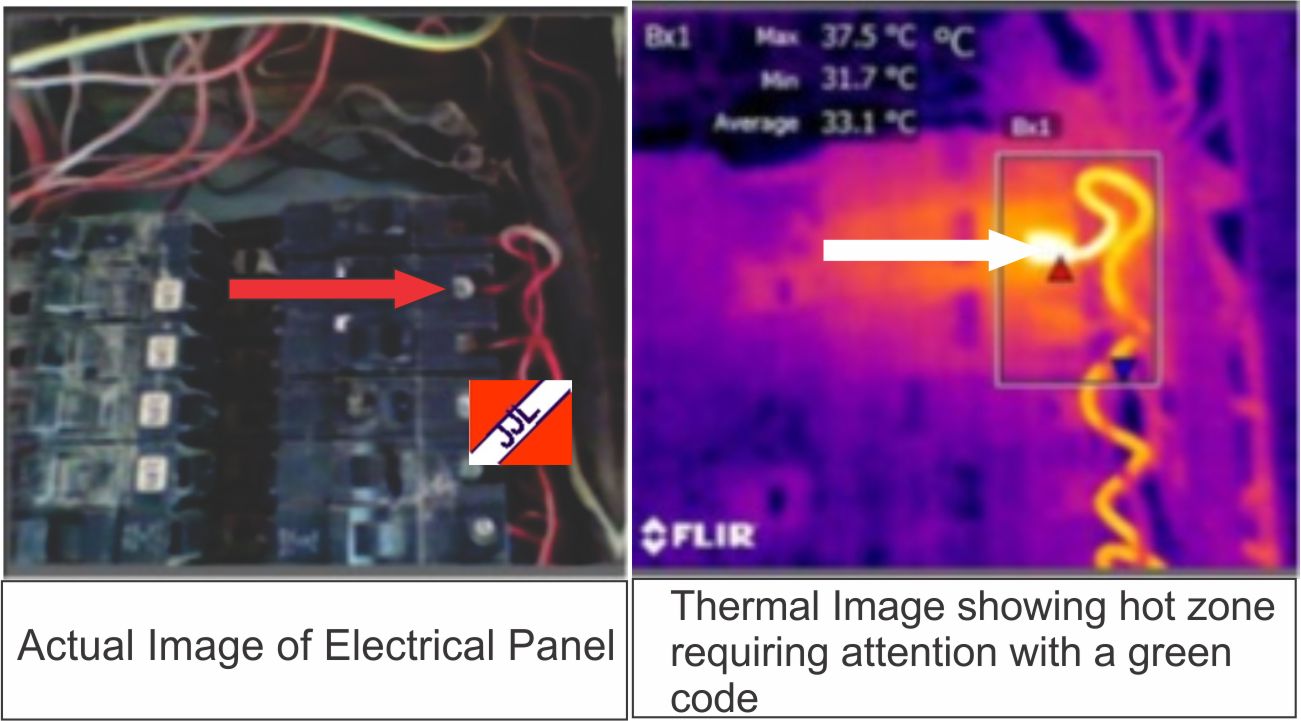 Thermal Inspection carried out at our client's (SC Johnson) Facility
Watch the video below to learn more about the E-Series FLIR Thermographic device for Thermographic Inspection.
Infra-red Thermography training Services
JOC & JOC LTD can train technicians on the application of thermographic imaging, analysis and report writing at our training center in Port Harcourt & on-site.
Contact us Now if you require our Infra-red Thermographic services or personnel training
4. Condition Based Monitoring Technique – Ultrasonic Leak Detection
Ultrasound hears high frequency sounds between 20khz and 100khz which is well beyond the human hearing range. It is also a find and fix technology just like infrared and is extremely useful in finding mechanical and electrical issues such as:
Compressed Air Leaks
Valve Problems
Malfunction Steam Traps
Lubrication Issues
Bearing Problems
Arcing/Corona Discharge
When used by itself or in conjunction with other predictive technologies, ultrasound is a simple technology that offers tremendous value at isolating costly problems that if left undetected could easily shutdown production or an entire plant.
Equipment & Services
 At JOC & JOC LTD, we possess highly trained and skilled professionals in Ultrasonic testing using the SDT Ultrasonic detector.
We provide ultrasound solutions that give our customers greater understanding about the health of their assets. We help them predict failures, control energy costs, and improve product quality while contributing to the overall uptime of their assets.
Types of Testing or Monitoring with the SDT 270
Bearing Monitoring
Used to check, monitor or analyze the health of rotating assets.
Electrical Faults
This reveals electrical faults and conditions in metal clad switchgear, substations, overhead transmissions and distribution lines.
Air Vacuum Leaks
35 – 40 % of compressed air demand is wasted by leaks even though compressed air is expensive to produce. Avoid such leakages in your asset using our ultrasonic testing services so you can save money while lowering your carbon footprint.
Valve Monitoring
The efficiency of a process depends on how properly the valves performs their function. With regular ultrasonic inspection, you can identify which valves are leaking and which ones are closed
Tightness Testing
This is done by placing an ultrasonic transmitter inside the volume to be checked and then sweeping the contour of the seals with the testing equipment.
Leaks are identified and located by an increase in ultrasonic levels at the leak site.
Ultrasonic Leak detection training Services
JOC & JOC LTD can train technicians on the application of Ultrasonic testing and monitoring, analysis and report writing at our training center in Port Harcourt & on-site.
Contact us Now if you require our Ultrasonic Leak detection services or personnel training
5. Condition Based Monitoring Technique – Visual Inspection
Visual inspection is typically the first step in the examination and monitoring process. This is the process of examination and evaluation of systems and components by use of human sensory systems aided only by mechanical or electrical enhancements to sensory inputs such as magnifiers, borescope, CCTV, stethoscopes etc.
The inspection process may be done using such behaviors as looking, listening, feeling, smelling, shaking, and twisting.
Observations are correlated with knowledge of structure and with descriptions and diagrams from service literature.
Equipment & Services
Visual inspection uses optical and or mechanical aids in the process of testing
These include items such as:
Borescopes
Magnifying glasses
Micrometers
Mirrors
UV Lights
These 5 Techniques of Condition based Monitoring will reduce failure rates and unscheduled downtime. It ensures equipment reliability and work safety.
Let us know what you think about these techniques in the comment section below.
Know someone who might be interested in this? Share Now.