The 2nd edition of the Nigeria Maintenance and Reliability Conference held on the 15h – 16th November 2018 at the Lagos Oriental Hotel, Lagos, Nigeria.
The event was produced and organized by The Maintenance Institute Africa and sponsored by
(Formerly Mobil Oil Nigeria) and JOC & JOC LTD.
The Theme for this year's event being "Strategic Leadership for Reliable Growth" which focused on the impact of leadership on the culture and reliability of an organization to drive sustainable growth.
Leadership is the skill and ability to create a future that would not otherwise have happened, it is a skill that needs to be groomed and harnessed for organizations to achieve their true potentials.
studies have shown that leadership is the major reason most organizations fail in their quest to achieve their true potential or sustained gains of their various improvement efforts.
The discussions were anchored by seasoned international and local experts in the field of Maintenance, Reliability and Asset Performance Management.
People who attended this conference are professionals and personnel who are directly or indirectly responsible for the maintenance, reliability, operations and performance of physical assets. this includes but not limited to Engineering leaders, Machinery lubrication professionals, Maintenance managers, Maintenance planners, Maintenance supervisors, Operations managers, and much more.
We present to you the highlights of sessions spread across 2 full days on conferencing and interactions.
JOC & JOC LTD,  was an active exhibitor and sponsor of this year's NMRC, displaying some of our highly effective Condition Based Maintenance equipment such as our vibration analysis equipment and accessories, Ultrasonic Leak detector, Infra-red Thermography, Rope Access,  among others. Take a look of our boot at the NMRC 2018 below:
NMRC 2018 DAY 1
The event kicked off with the opening remarks by Tunji Oyebanji, the MD/CEO of 11 PLC, and an opening speech by Jonathan David, the founder of The Maintenance Institute Africa.
FIRST SPEAKER: SUCCESSION PLANNING: A LEADERSHIP ATTRIBUTE
Mr Leke Oshiyemi (Employee Engagements and Partnership Manager – Nigerian Breweries) Talked about the importance of Succession planning as an attribute of leadership. Succession planing is very important in any organization because we deal with humans and humans can leave an organization or establishment for many reasons. Some reasons why people leave include death, resignation, sack, relocation, marriage, etc. So as a leader, you have to have a plan for succession in case of such occurrences. Mr Leke also pointed out that it is better to groom leaders from within your organization who grow through the ranks to become leaders than imposing a leader who may not possibly know much about that particular business or organization.
You must have a succession plan by carefully nurturing candidates who are capable to become leaders whenever they are being called upon. to achieve this, Mr Leke emphasized on four key points, which includes,
Identifying the Roles and Requirements: Mr Leke went further to stress that leaders or whomever is in charge of recruiting should have a thorough understanding of each role and their requirement. it maybe difficult to fill in a role with the right candidate if you do not have an  in depth understanding of such roles. the HR alone may not be sufficient to pick and fish out these roles and requirements because most of the times it requires more. Identify requirements in developing future leaders and document them.
Identifying the Right Candidate for Leadership: the speaker gave a simple analogy for this point using a football team, having their feature stars in the academy of the same team. these players are being trained, coached and guided to become key players in the future. succession planning is all about identifying those leaders through their performance
Identify the Gap those Candidates: after successfully identifying those candidates, the next step is to identify the flaws or gaps in those candidates and finding a way to close those gaps. Leadership amplifies whatever flaws in attitude or character a person might have. so it is very necessary to fix those flaws now before it will be picked up and amplified by a leadership position. Mr Leke also advised that when giving recommendation or appraising someone, it is best to say it as it is for the person's own good. because that person might have some certain fatal flaws or gap and just because of the benefit you feel the person will get you tend to exaggerate the person's abilities to attain a position or promotion. Mr Leke gave a striking example of a recommended driver who got into a car and asked where the gear was.
Learning and Development: This has little to do with the number of certifications or class or degree. there are some people who has all the degrees and certificates but does not really know how the work actually goes. there are some who knows how the work actually goes but without degrees or certificates. 10% of learning is what happens in the class room. Invest in the development and behavior training of employees with an aim to develop them into becoming leaders.
SECOND SPEAKER: EMPLOYEE VOICE: TRANSFERRING ORGANISATIONAL CULTURE AND PERFORMANCE THROUGH FREEDOM TO SPEAK
The second speaker, Mr Abimbola Peter Alamu spoke on the power of employee voice. He talked about how to create the right environment to influence the people, making them reliable and improve productivity as an outcome.
He defined process of trust building with employees as a quotient of intimacy, credibility, reliability and self orientation of a leader as shown below:
Mr Abimbola stated some key attribute a leader should have:
As a leader, you have to be upright and have a very high ethical value
Show appreciation for genuine effort: an appreciation could be as simple as writing a simple letter to in appreciation of an effort or achievement.
Welcome new ideas.
the speaker went further to explain with a simple model that can be used to transform the culture of an organisation, as shown below:
taking this approach can lead to outcomes that are not limited to
Care for one another in the organisation
Cost saving
Improved communication, collaboration & cooperation
Employee engagement
Business Assurance
THIRD SPEAKER: THE LEADER AS A CHANGE AGENT
The third speaker, Mr Eizu Uwaoma, who is the CEO Hexavian, spoke to the audience on who a change leader is. He categorically defined a leader as a
Talent Manager
Priority Manager, and a
Future Manager.
Mr Eizu defined a leader as the one who knows the way, goes the way, and shows the way.
A Change Leader must have
A compelling vision
New ideas
Be Proactive
Follow through Execution
Result oriented
NMRC 2018 DAY 2
the second day of the conference was packed with insightful topics and speech given by seasoned professionals in the industry.
Dr Okafor Ekene illustrated practical mathematical models that can be used for growth modeling in the design stage of an equipment or machine. Pointing that reliability and efficiency of a product can be modeled from the point of design.
During the course of the conference delegates engaged in exciting moments of interactions, contribution, and participation throughout the program.
JOC & JOC LTD (JJL) is one of the best asset integrity management services providers in Nigeria today, we partner with our customers to offer an industry-leading performance in Asset Integrity, Maintenance and Sustainability.
We secure confidence in the high up-time of production assets, without compromising industry best practices and recognized standards. we are packaged to offer an all inclusive maintenance and reliability services to the oil and gas, and other industrial sectors.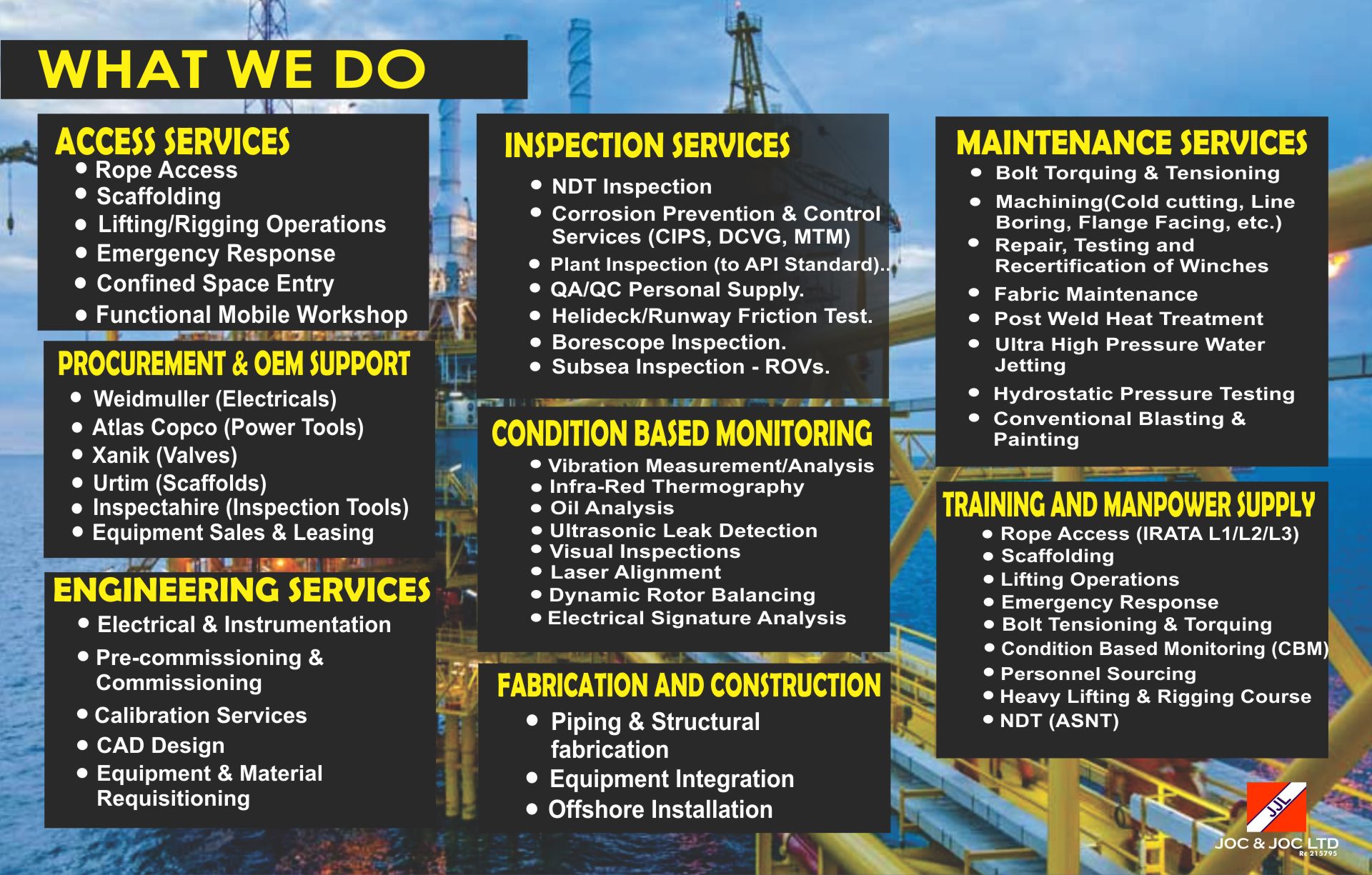 Read more about our services here
Write back to us at info@jjlltd.com for more on the NMRC 2018 2nd Edition or enquiry on any of our products and services, or drop a comment to tell us what you think about this year's Nigeria Maintenance and Reliability Conference.