Conducting effective maintenance on your production facility or equipment, or workstations is essential, whether your company is big or small and regardless the industry you operate in.
Knowing which is the right maintenance strategy for you and when you should adopt any of it is a good way to begin.
In this article, we outline the importance of predictive maintenance (PdM), the advantages as compared to corrective maintenance and the different technologies applied in predictive maintenance.
INTRODUCTION
Failures in plant operations should be minimized to the lowest possible value through the effective execution of predictive maintenance.
According to the general rule of thumb (the 80/20 rule), only 20% of time spend on maintenance should be directed towards corrective actions, while the remaining 80% should be spent on predictive/proactive maintenance.
this being said, a facility that does not engage predictive maintenance or set up strategies to avoid unexpected failures will run down to reactive or corrective maintenance and this can cost the company a lot of down time and has the following disadvantages
Paused operations: Unexpected failures may result in unavailable materials and therefore delay the time taken for a repair, increasing equipment downtime;
Equipment not maximized: This approach doesn't protect or look after equipment and therefore reduces the lifetime of the assets;
Higher long-term costs: Corrective maintenance is applied when it is believed that the stop and repair costs in case of failure will be less than the investment required for planned maintenance. But this doesn't always happen. When a catastrophic failure occurs, it can be extremely costly, causing negative effects on reputation, client satisfaction, safety and on the ability to run a business efficiently and productively.
Predictive maintenance is very suitable for assets which have a critical operational function, with the purpose of avoiding failures and mitigating the consequences of equipment breakdowns.
Predictive Maintenance, also known as condition-based maintenance is aimed at predicting when a failure might occur and preventing them.
Predictive maintenance is a task used to determine the current status of some form of deterioration and how close a deteriorated element is to failure. There are a number of forms of predictive maintenance and their effectiveness varies based on a variety of issues. When assessing the effectiveness of predictive maintenance, ask yourself:
What is the predictive maintenance measuring?
Is it directly measuring the form of deterioration that most commonly results in the failure of the device?
Or is it measuring some behavior that occurs as a secondary result of the deterioration?
Is the response that should be taken as a result of various predictive maintenance measurements clearly defined?
Benefits of Predictive Maintenance
Maintenance costs – down by 50%
Unexpected failures – reduced by 55%
Repair and overhaul time – down by 60%
Spare parts inventory – reduced by 30%
30% increase in machinery mean time between failures (MTBF)
30% increase in uptime
Now these numbers may seem high. But even if you take only a fraction of these benefits, the financial impact of an effective PdM program at most plants can easily reach into millions of dollars. And, for the typical manufacturing plant, a 10% reduction in maintenance costs has the same bottom line benefit as a 40% increase in sales.
Another advantage of predictive maintenance is this: Studies have shown that with a properly-engineered PdM program, you can replace up to 30% of your Preventive Maintenance tasks (PMs).
Reactive maintenance is a common practice for some facilities. Being the opposite of preventive and predictive maintenance, reactive maintenance is essentially waiting for an incident to occur. This practice may seem like a cost saving strategy, but when unplanned downtime occurs, you spend more time fixing the issue than if you had done predictive maintenance, to correctly predict and prevent such incidents. This delayed maintenance could result in negative publicity for your facility and, in turn, compromise your customers' trust.
HOW PREDICTIVE MAINTENANCE WORKS
It is based on the actual physical or operating condition of the equipment at the time of maintenance, instead of statistics and previously defined schedules, unlike Preventive Maintenance.
The idea is to predict the occurrence of a failure before it actually happens, by consistently monitoring and testing the condition and performance of the equipment in question using advanced techniques such as vibration analysis, oil analysis, acoustic, infrared testing or thermal imaging.
When certain undesirable conditions are detected, then a repair is scheduled before an actual failure happens. This way, it is ensured that the repairs are both necessary and timely, which isn't always the case with Corrective Maintenance or Preventive Maintenance.
This approach is suitable for equipment of high priority, without which your company's operations would not be able to run properly, and only for assets whose potential failures can be cost-effectively predicted with consistent monitoring.
CLASSIFICATION OF PROACTIVE MAINTENANCE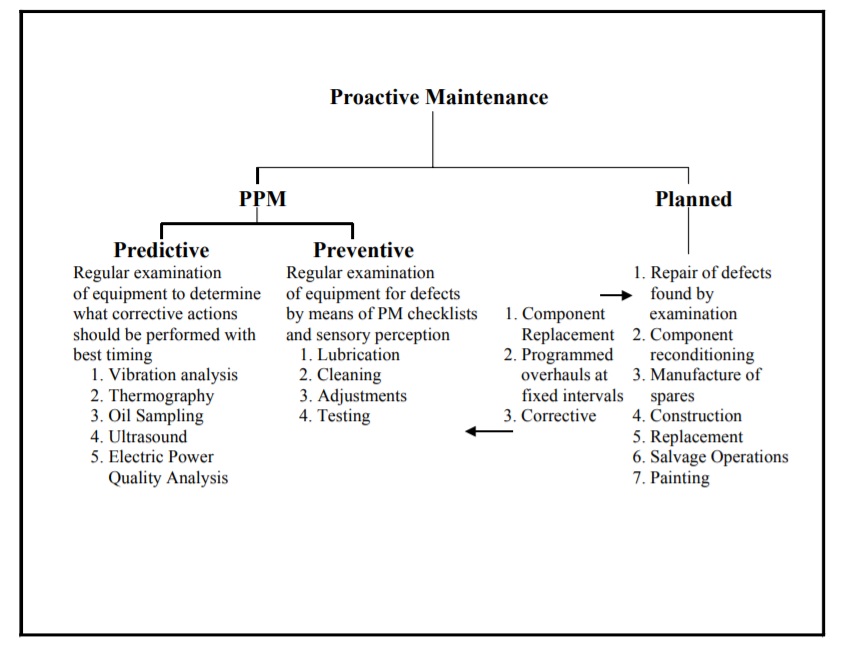 OVERVIEW OF PREDICTIVE MAINTENANCE TECHNOLOGIES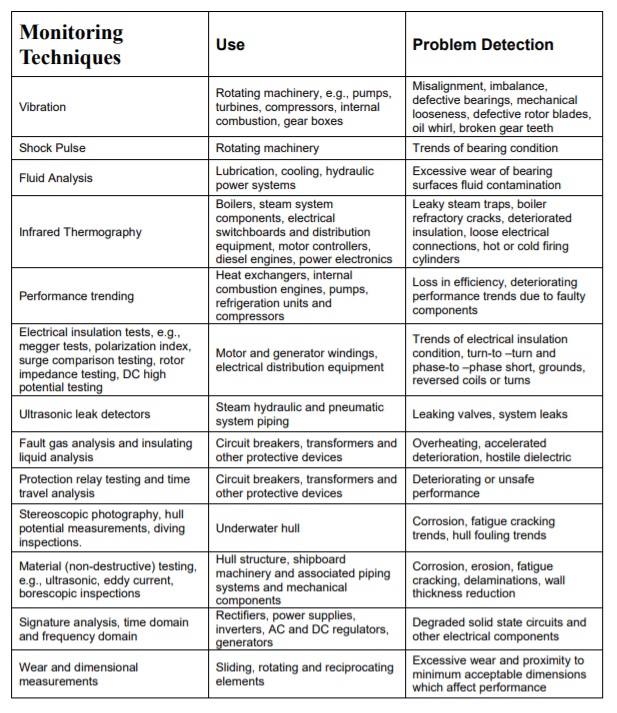 ELECTRICAL TESTING
Non Evasive Partial Discharge testing conducted on all switch gear from 3.3kV – 38kV using the UltraTEV test meters.
Partial Discharge (PD) is an electrical phenomenon; it is a minute electrical pulse or discharge which occurs in gas filled voids or on a dielectric surface of a solid or liquid insulation system that causes insulation to deteriorate. PD is frequently the reason for breakdown of an insulation system resulting in failure of the equipment
The pulse or discharge only partially bridges the gap between phase to ground insulation. By using state of the art measurement equipment we are able to detect and locate the source of discharge
VIBRATION ANALYSIS
Using vibration analysis on rotating machinery enables the early detection of faults before failure. This analysis will help you conduct a detailed assessment of your rotating plant and form the basis for improvement to deliver effective cost savings.  The aim therefore, is to evaluate machine condition for weaknesses, thus enabling the early diagnosis of faults. This in turn allows repairs to be planned and performed economically.
Deliverables:
Initial audit & benchmarking
Measure, vibration, bearing condition, RPM, motor performance
Routine monitoring plans
Wear detection of rolling element and plain bearings.
Diagnosis and correction of imbalance and misalignment.
Diagnosis of electric motor rotor defects.
Early detection of coupling defects.
Improve performance
INFRA-RED THERMOGRAPHY
is the fastest growing area predictive maintenance available today.  The development of hand held focal plane array based systems enables predictive maintenance engineers to bring the thermographic camera to virtually any equipment site with ease.  Advanced image processing and reporting programs facilitate fast and easy analysis and documentation of survey results.
OIL ANALYSIS
Oil analysis is a routine activity for analyzing oil health, oil contamination and machine wear. The purpose of an oil analysis program is to verify that a lubricated machine is operating according to expectations. this is what
Oil analysis predictive maintenance technique does the following
Checking the health and cleanliness of lubricants as they arrive. It is a common and dangerous assumption that all new oil is clean and healthy.
Checking the health and cleanliness of lubricants in storage
Utilization of all oil analysis data allows you to run a predictive maintenance program that monitors the condition of the oil and machinery through particle counts and identification. This information allows the engineer to determine the life cycle of the machine and when oil and filters require changing.
An effective oil analysis program involves all individuals within the companies' maintenance regime by empowering them with the knowledge and data to act in the best interest of the organization.
VISUAL INSPECTION (OPS ROUNDS)
These inspections are still vital to the maintenance operation however in addition to the standard visual inspections operators can be equipped with condition monitoring instrumentation and trained in the collection of data to enable trend analysis of critical assets and early identification of faults.
ULTRASONIC LEAK DETECTION
Ultrasound hears high frequency sounds between 20khz and 100khz which is well beyond the human hearing range. It is also a find and fix technology just like infrared and is extremely useful in finding mechanical and electrical issues such as:
Compressed Air Leaks
Valve Problems
Malfunction Steam Traps
Lubrication Issues
Bearing Problems
Arcing/Corona Discharge
When used by itself or in conjunction with other predictive technologies, ultrasound is a simple technology that offers tremendous value at isolating costly problems that if left undetected could easily shutdown production or an entire plant.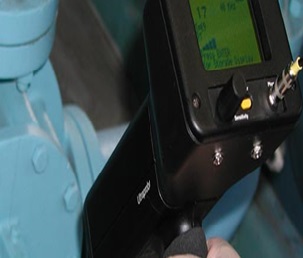 SUMMARY
Predictive Maintenance is now a significant aspect of management best practice within manufacturing industry. Avoiding losses from unscheduled downtime, reducing direct  labour and other maintenance costs and managing Health &   Safety risks are all of paramount importance.
Additional responsibilities are being placed on directors and senior   managers in both the private and public sectors, to comply with   energy conservation and other environmental regulations.
REFERENCES
THE WAY FORWARD
On request, JJL will provide an inspection of your facility using the following techniques:
Thermography
Vibration Analysis
Partial Discharge
Ultrasound
Electrical Motor Signature Analysis
The results of the test will then be used to benchmark the facility and build an inspection model for future inspections. The data will also be used for the following
Bring all outstanding PPM tasks up to date
Produce up to date maintenance requirement
Identify critical plant at risk of failure for more routine inspections
Identify equipment and training requirement to enable workforce to complete routine monitoring of plant and equipment.
Establish any valve leaks that can endanger facility operations.
JOC & JOC LTD (JJL) is one of the best asset integrity management services providers in Nigeria today, we partner with our customers to offer an industry-leading performance in Asset Integrity, Maintenance and Sustainability.
We secure confidence in the high up-time of production assets, without compromising industry best practices and recognized standards. we are packaged to offer an all inclusive maintenance and reliability services to the oil and gas, and other industrial sectors.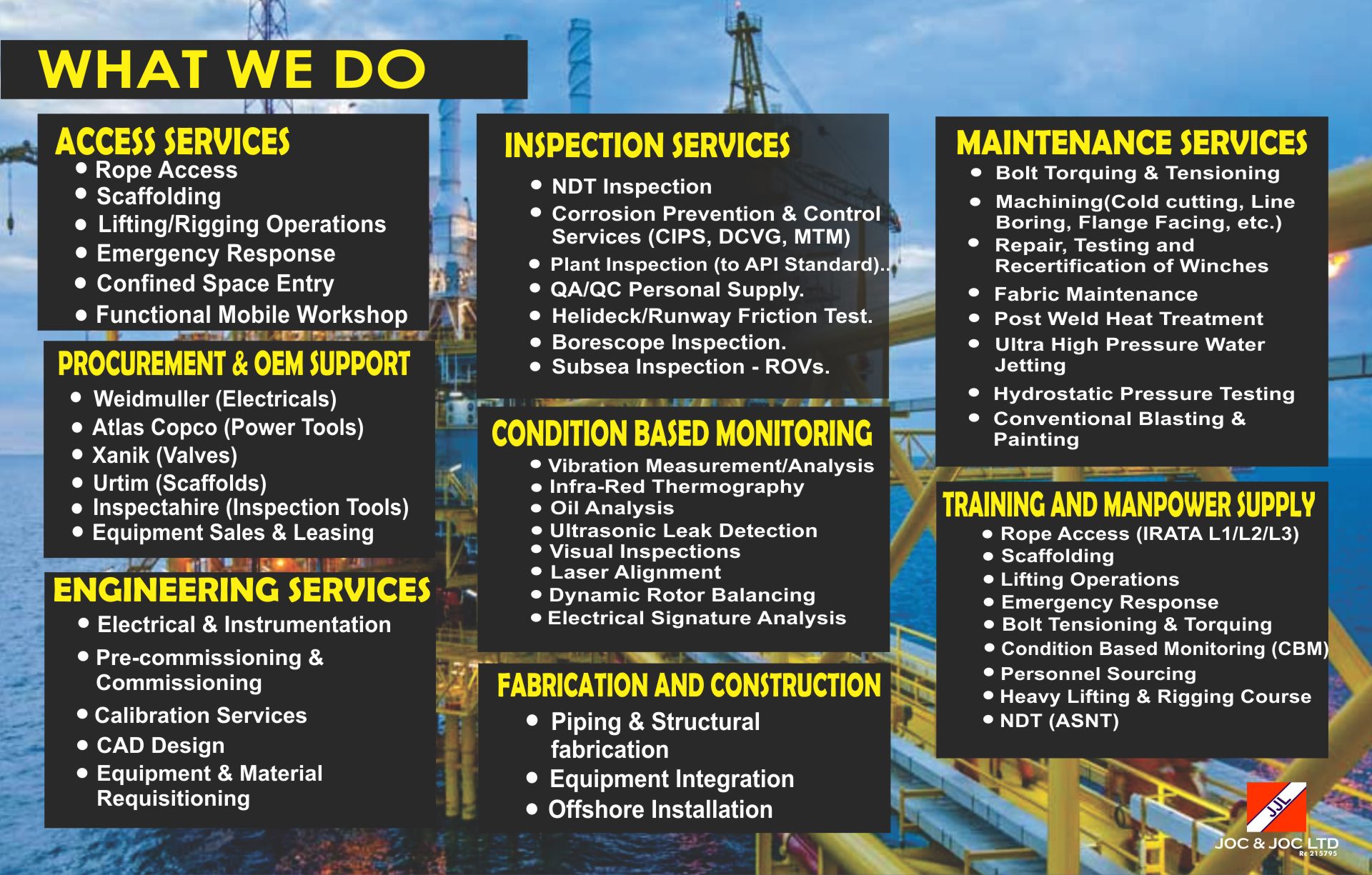 Read more about our services here